New Virtual Serial Port Driver 11 is Finally Here!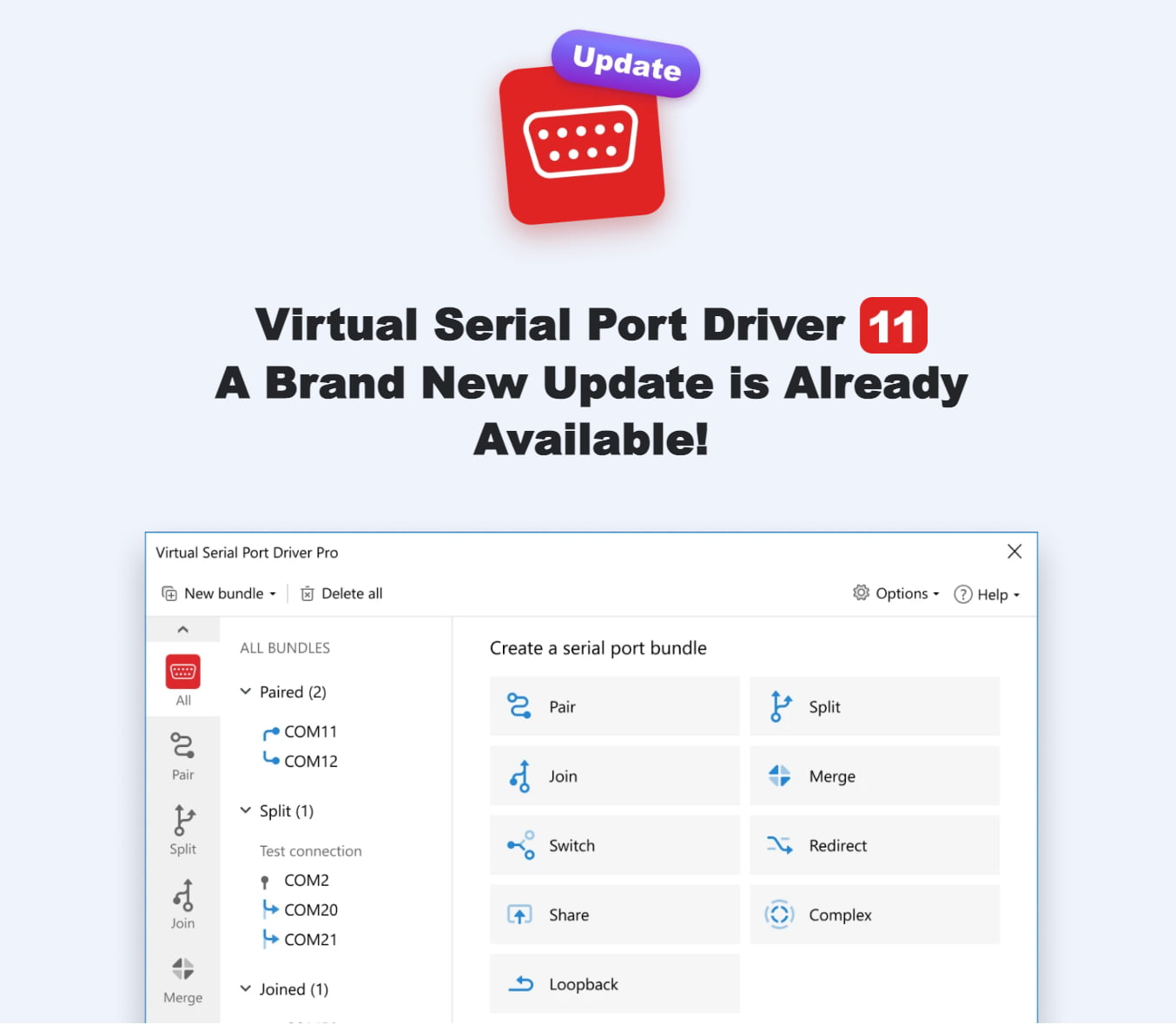 Electronic Team is excited to introduce the latest version of Virtual Serial Port Driver 11.0 - your unlimited supply of virtual COM interfaces much needed in the process of development, testing, or debugging serial port software and hardware.
We never fail to find new ways to make out products even more convenient and versatile. From now on, you can reset serial ports' data statistics with just one click. On top of that, you'll be able to view custom settings of physical ports (baud rate, parity, etc.) as a serial port mode string directly in the selected port bundle.
Usability is our key priority, so to save you time, we've added the possibility of using a virtual port from an earlier created bundle as a physical port in a new bundle. Plus, in this version, even more software drivers are officially signed by Microsoft to eliminate possible compatibility issues.
Plus, for your extra convenience, we've updated our SDK user guide and fixed some minor issues with the command-line interface, backup/restore port bundle settings, and 12th Gen Intel® Core™ processor compatibility.
Here are just a few of the reasons why VSPD 11 is the best serial port emulation tool currently available on the market:
Endless testing ground:

VSPD provides you with as many virtual COM port pairs as you need, and every single one of those virtual ports will be recognized by your apps and devices as a physical serial interface.

Ultimate emulation:

VSPD supports strict baud rate emulation, HandFlow control, Windows kernel driver technology (WDM, WMI, Power Management, PnP, etc.), and even a serial line break.

Virtual null-modem connection:

VSPD creates pairs of virtual serial interfaces communicating via a virtual null-modem connection you can set to emulate any standard hardware signal line, including loopback pinout, or create a custom one.

Outstanding toolkit:

VSPD PRO offers you a whole slew of advanced features, i.a., splitting and joining data streams, creating port bundles, merging ports, creating port switchers, and many more.

For more information, please visit the official product page.

The registered users of the previous version can upgrade with a 50% discount (contact support to request).