Remote access to USB and Serial devices over LAN/Internet network
Electronic Team, Inc. has been developing original remote access software solutions for USB and serial interface devices for more than 15 years now. We will provide you with a reliable solution to overcome any challenges of remote device access, which will facilitate the technical processes and give you a competitive advantage in your field of operation.
Select a product to learn more about
Or scroll down to find out about the technology

Our technology in detail
Numerous clients have already benefited from integrating our technology into their software and hardware products, which saved them precious resources and drastically increased operating efficiency.
Constant development and support
We are in the constant state of improving and implementing new features into our technology, which means that you will always receive the most up-to-day product and top-notch after-sales service.
Suited for hardware/software solutions
Our technology can not only be used for the development of a software piece but can be incorporated into existing hardware-based projects.
Highly-secured remote access
The technology we develop uses a high level of encryption for data transfer to keep it absolutely safe and preserve its integrity until it reaches its destination.
Works with a number of platforms
Our technology is fully compatible with Windows, macOS, Linux, Android software and embedded projects. Moreover, its functionality can be used across all these platforms.
Multiple areas of implementation
EPVT is incredibly versatile and can assist with the remote access to USB and serial interface devices in various fields.
Redirecting USB ports to a cloud
Remote access to USB ports
Remote OBD support with hardware module
And many other examples…
and many more customers trust us
Existing software solutions based on our technology
Just let us know what kind of project do you have in mind and we will prepare the most cost-effective package that will meet all of your requirements.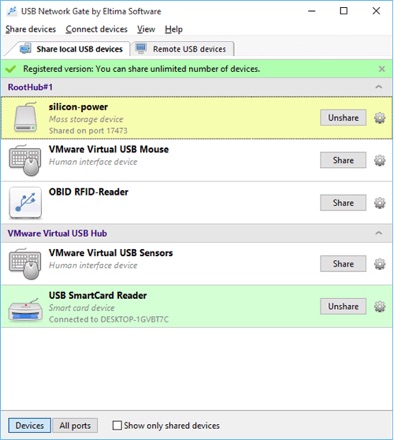 USB Network Gate
Share and connect remote USB devices across a network
USB Network Gate is designed to share USB devices connected to a computer with other machines in the local area network or over the Internet. It supports all kinds of USB appliances making such devices as scanners, security dongles, webcams, etc. available for remote connection from any part of the world. USB Network Gate can be installed on Windows, macOS or Linux machine and share USB devices across these operating environments.
Some of USB Network Gate features
More about USB Network Gate functions and options.
Share USB ports over IP/LAN/VLAN/WAN/Internet
Connect remote USB devices to your machine over various network types and enable advanced options such as password authentication and traffic encryption.
Redirect USB devices to VMs
Since lots of hypervisors have a limited list of supported USB devices for redirection, USB Network Gate will help to forward them over the network.
Work with USB devices over RDP
USB Network Gate works perfectly within a remote desktop session and will allow you to use USB devices that are connected to your computer physically.
Access USB devices over Wi-Fi
There is no need in tweaking existing network configurations. Any USB device shared with USB Network Gate can be accessed wirelessly in a couple of clicks.
Pricing:
Starts from $159.95 per license per shared port
Requirements:
Windows (32-bit and 64-bit): XP/2003/2008/ Vista/7/8/10, Windows Server 2012, Windows Server 2016, Windows Server 2019
macOS 10.9-10.14
Linux version was tested on: Centos 7, Ubuntu 14.04 - 18.04. Please note: USB Network Gate for Linux requires kernel version from 2.6.18 up to 4.4
Android 5+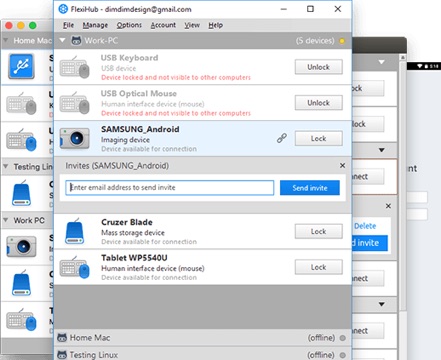 FlexiHub
Access remote USB and COM port devices over the Internet
Powered by EPVT, FlexiHub turns a common computer into a single point of access for USB and serial interface devices for the remote machines.
Some of FlexiHub features
More about FlexiHub functions and options
USB and Serial devices remote access
Connect required devices to a single computer with FlexiHub, and you can access them over a network at any time just in a single click.
Connect/disconnect devices remotely
With FlexiHub you can easily manage any number of remote devices - connect and disconnect them without your physical presence at the remote side.
Send invitations for remote access
Invite other FlexiHub account owners to connect to your devices while maintaining control over USB remote access.
Block devices from an unwanted use
You can block any USB and serial port device from being accessed remotely over the network maintaining full control over the locked device.
Pricing:
Pricing starts from $159.99 per connection per year
Requirements:
Windows (32-bit and 64-bit): XP/Vista/7/8/10, Windows Server 2003/2008/2012/2016/2019
macOS 10.9-10.14
Tested on Ubuntu 14.04, 15.10, 16.04; Debian 8; Centos 7, Packege size depends on OS distributive
5.0 (ICS) and above
Software that fits your project
USB Network Gate and FlexiHub share the main function - enabling remote access to various devices, and are based on the same USB redirection technology. However, they possess some distinctive differences that will help you select a correct solution for implementing your project to life.
USB Network Gate
Share and connect remote USB devices across a network
$159.95
per licence per shared port
The ability to work over the local network without an Internet access
The ability to tunnel USB traffic over the RDP protocol
More advanced sharing setting compared to FlexiHub
Per sit licensing model
Learn more about USB Network Gate
FlexiHub
Access remote USB and COM port devices over the Internet
$159.99
per connection per year
The ability to connect to remote devices even when a direct connection between the computers is not possible (for instance, if one of them is behind NAT or a firewall)
The ability to connect/disconnect remote devices to/from any computer that is currently logged into FlexiHub account
Support for both USB and COM port devices (in Windows version only)
Subscription-based licensing
Learn more about FlexiHub