Electronic Team, Inc. unveils HelpWire: Game Changer in Remote IT Support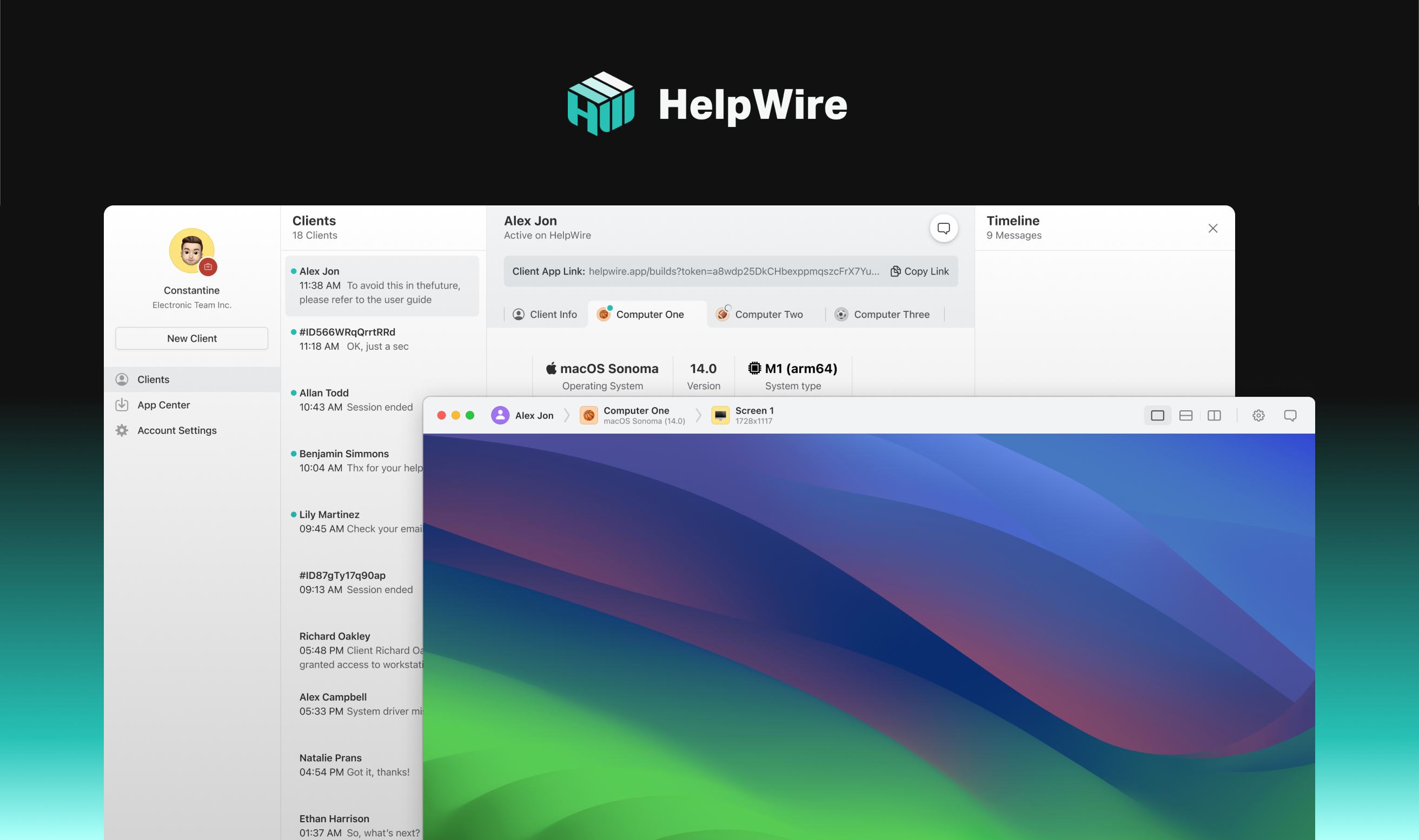 Electronic Team, Inc. introduces HelpWire, the newest software-as-a-service solution designed to make remote technical support more efficient and user-friendly. Costly on-site tech support can finally be filed as a history, as any IT-related issues can be fixed from anywhere at a moment's notice.
HelpWire's signature Remote Control feature allows you to troubleshoot your clients' systems directly from your desk, just like as you were sitting in front of their computer:
Control

multiple workstations

in parallel with easy switching between them.
Use

Drag-and-drop

and

copy-paste

options for convenient file transfer.

Multi-monitor View

lets you see both client's displays simultaneously.

Simple session start

will eliminate any confusion with IDs and passwords.
With a

flexible frame rate

, you can optimize the video stream quality.

Smart connection

will automatically pick the best connection method.
HelpWire's Support Chat is so much more than just a line of communication:
Parallel chats

allow you to assist several clients in multiple concurrent chats.

Chat synchronization

maintains unified message history across all client's devices.

Session history

allows you to trace back previous troubleshooting sessions.

Event timeline

keeps track of your every major action during a support session.
A convenient Client Management tool provides you with all the necessary means of keeping your client list neatly organized:
Contact book

is integrated into the organization's portal for easy access.

Workstation grouping

lets you gather interconnected clients under one profile.

Basic device information

instantly provides you with key system information.

Extended client profiles

keep your notes on clients to facilitate identification.
So, what makes HelpWire the best choice for your tech support team?
All around solution to the long-standing remote IT support challenges.
Well-adjusted intuitive interface for simultaneous support sessions.
Streamlined troubleshooting with remote control and value-added chats.
Advanced client management tools to boost your performance.
Experience the future of remote IT support with HelpWire!