NEW
Yoo-hoo! Elmedia runs natively on Mac computers with Apple silicon: M1 and M2 series!

How to Open Videos in a Mac Video Player
Almost Like Magic for Your Files
Use Any Format in This Video Player for Mac
Elmedia Player allows you to stop worrying about codecs on macOS, since it will play almost any movie or song, including MKV, FLV, WMV, Blu-ray, AVI, and FLAC. But there are more features you can use to have a good time.
Export Playlists
The temporary playing queue can be looped, shuffled, or exported to an M3U file, usable not only in Elmedia, but also in other players.
A Customizable Experience
Adjust sound, video, or the way your files are played. Speed them up or slow them down. Change brightness, contrast, or saturation.
Streaming in just a few clicks
Adapted for WiFi Streaming
Elmedia Mac Video Player can be a part of any local network, since it can connect to AirPlay 2, DLNA, and Chromecast devices. Whether it's an Amazon Fire Stick, or a Roku TV, you'll be able to stream HD video and audio with a large amount of options, both for customization and for compatibility.
AirPlay
AirPlay 2 is also included.
DLNA
Most devices use this protocol.
Chromecast
Connect to Google gadgets.
Live Transcoding
Is your file not supported with the target platform? No worries, transcoding will take care of this problem.
Full HD Streaming
Cast to Chromecast Ultra, Smart TV, or Apple TV in any resolution, even 4K.

Subtitles Without Limits
Add any subtitle format to your movies, and burn them into the video if the receiving device can't decode them.
Use Your Playlists
Playlists will work flawlessly, complete with Repeat and Shuffle. And the same applies to bookmarks and chapters.
Simple Subtitle Management
Improve Subtitles with These Options
Elmedia Player allows you to get more out of your subtitles. Make the more visible and readable, or move them if they obscure an important part of the screen. Add new ones easily, no matter how they're encoded.
Visual Changes

Move the subtitles around the screen, recolor them, change the font, change their size. Make them stand out on the blurriest and brightest backgrounds.

Find More on the Web

Why download a file separately, when Elmedia Player can do it for you? It includes full OpenSubtitles integration, complete with automatic search and file saving.

Subtitle Formats

You can add SRT, SSA, or SMIL tracks to any movie or show. They all can be modified with the same settings - no format restrictions.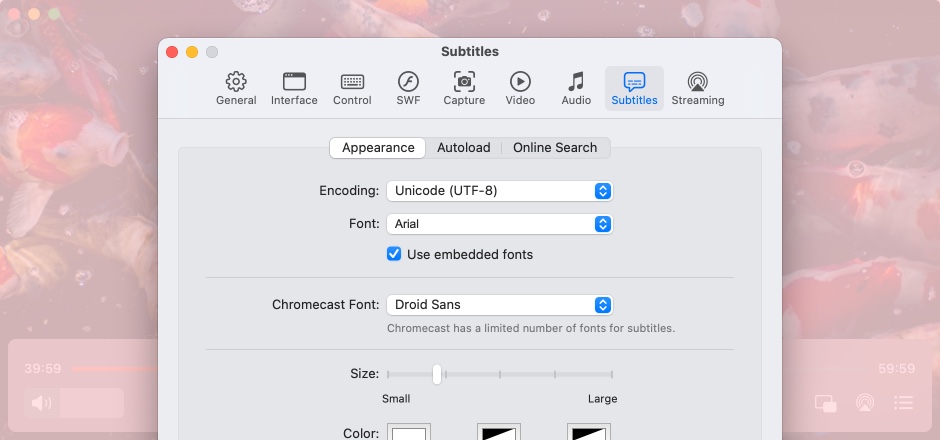 Customized Video Playback
A Whole Load of Features
FLV and SWF Compatibility
The old Flash video formats, now discontinued, can be watched in Elmedia*.
* Learn more about SWF playback in Elmedia Player.
Visual Settings
Tune up the brightness, contrast, and gamma on your videos. Choose the best configuration for any clip.
Snapshots Aplenty
Elmedia Player can create a screenshot showcase by taking the desired amount of pictures at set intervals.
Control Using the Touch Bar
When you use Elmedia, the Touch Bar will display helpful controls, providing an alternative to the hardware keys.
Fix DVD and Camera Defects
The deinterlacing function is useful if you're seeing lines during playback. Filter them out.
Repeat a Fragment
Place two markers on the timeline and loop that part of the video as long as you like.
Native Fullscreen
Forget about borderless windows and other workarounds! Also, you get to choose any connected display.
Fix Desynchronization
Both the audio and the subtitles have an adjustable delay option, which may be useful for out-of-sync movies.

Preview Thumbnails
Find movie moments easily - Elmedia will show a miniature picture when you hover over the timeline.

PiP Mode
Use Picture-in-Picture to watch videos or control music without having to switch between windows.
Sound Improving Video Player
Set Up the Sound
Switch to Any Device
Select any available audio output. Enable or disable stereo.
Audio Additions
Compatible sound files can be added and played side-by-side with any video.
10-band Equalizer
Use the presets or create your own custom configuration.
AC3/DTS Passthrough
Arrange your own personal Surround Sound setup. Listen in 3D!
What others say about Elmedia
Elmedia Player is easy to use and takes much of the guesswork out of playing back videos of just about any format you can imagine.
Elmedia Player for Mac is a comprehensive solution for playing all kinds of videos and other media files on your Mac without having to convert them.
Plays all my video files swimmingly. Streaming local videos to the smart TVs is pleasant bonus of the PRO version.
It's a media player for Mac, which boasts a huge range of codecs. All of the features of this program are easily accessible through the app's streamlined interface.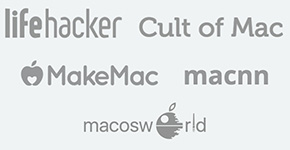 #1 at Video
Elmedia Player Free
4.8
rank based on
11950
+ users
Get a download link for your desktop
Submit your email address to get a link for quick download on your desktop and get started!
Languages:
Deutsch, English, Français, 日本の, Español, 中文