NEW
Yoo-hoo! Commander One runs natively on Mac computers with Apple silicon: M1 and M2 series!

Full protocol support
Commander One supports multiple file transfer protocols, such as FTP, SFTP, FTP with implicit SSL, and FTP with TLS/SSL.
Multiple connections
Simultaneous work with multiple connections aimed to make file transfer fast and efficient and facilitate your routine.
FTP server as a local drive
Deal with files stored on remote servers like they're located on your computer through our FTP client for Mac.
Connection Manager
Fast and comfortable way to access multiple cloud accounts and network servers right from the file manager.
Commander One supports work not only with FTP protocol but also can be a great SFTP client for Mac.
Amazon S3, as well as S3-compatible storage accounts, can be accessed right from the file manager. Choose to mount entire storage or certain buckets.
This FTP client Mac app makes it possible to establish a connection between the WebDAV server and your Mac with just a couple of clicks.
Get full integration with Dropbox accounts. All that is necessary is to link your accounts via Commander One.
Handle your docs and sheets with ease just by integrating your multiple Google Drive accounts into our Mac FTP client.
Set up multiple OneDrive accounts and benefit from seamless online file management.
Work with OpenStack documents without taking up room on your system and without synchronizing them with your Mac.
Get a true view of the full Backblaze B2 account via Commander One. Download and upload files with ease.
Box file sharing has never been easier. Access files and folders stored on Box without syncing them to your drive.
Additional protection on online connections with encryption feature
Our
FTP software for Mac
cares about your privacy and adds an extra layer of protection to the files stored online, no matter whether it is a remote server or any of the popular cloud storage services. Save data handling is possible due to AES - 256.
Web services (FTP, Amazon S3, WebDAV)

Cloud storages (Dropbox, Google Drive, OneDrive and more)
Private files

s#hV*IJ@3*mK

folder

mountencr2

Research

iu3T5YKp$dVy

xls

mountencr2

Presentation

(F-7bd[,-[Nj

png

mountencr2

Report-20xx

ypZp}tx6GL<d

doc

mountencr2
Encrypt data
Free dual-panel file manager
Commander One is a versatile app that guarantees super easy and fast file management. Besides being a file manager, it is also a reliable FTP client Mac solution that offers full control not only over your local files but over your online files as well.
Learn more about Mac File Manager.
Show hidden files
Reveal all hidden files by toggling just one button on the toolbar
Fonts & Colors
Choose the most appealing color and font
Brief mode
Work with multiple files and folders at a time
History and Favorites
Have quick access to all your most-used files and folders
essentials at your fingertips
Custom keyboard shortcut
Assign hotkeys for any action to save time while working
Unlimited tabs
Open as many tabs as you need while working with different files and folders
Convenient items selection
Convenient file selection functionality to facilitate your workflow
File operations queue
File operations are queued in the background without interfering with the working process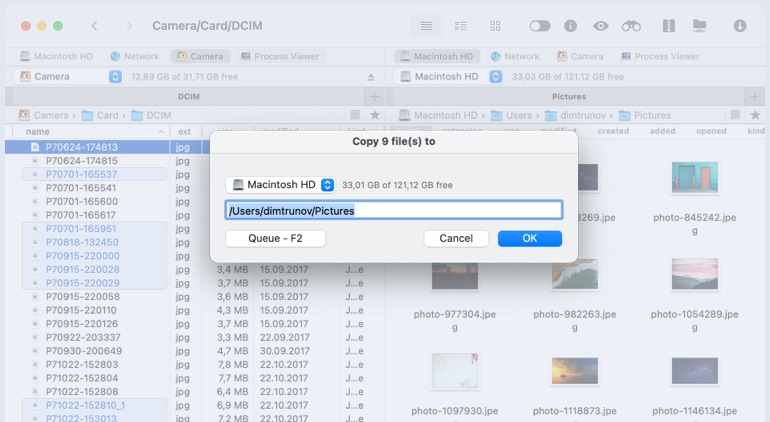 Support for ZIP archives
This FTP client for Mac offers flawless work with .zip format
File viewer
The built-in file viewer can handle Hex and Binary files along with text, media, image, HTML
List of computers in a local network
Local computers are all listed for easy access
Root access
Benefit from unrestricted root access right from Commander One
List of PRO Pack Features
Reveal the extended functionality of Commander One and benefit from PRO Pack features for 15 days without paying a dime.
Connection Manager
One spot to access various cloud computing services right from Finder.
Mount iOS
Have access to your different iOS devices as a regular drive.
Mount Android
Files stored on Android devices can be seamlessly managed, including media content and photos.
Mount MTP
Ability to work not only with Android devices but also with other supported devices like cameras, MP3 players, etc.
Compress and extract
Seamless work with various archive types, including ZIP, RAR, TBZ, TGZ, 7z files.
Terminal emulator
Integrated terminal for executing commands directly from the file manager and easy way to access FTP from Mac Terminal emulator.
Process viewer
Ability to view and control all processes running on your Mac computer for better performance.
Themes
Have a stylish interface of Commander One due to various color theme support.
How to access FTP via Commander One
Thanks to this Mac FTP client establishing a connection with remote servers is easy and fast. Proceed with the guide below to connect to the FTP server.
1

Install and launch the app.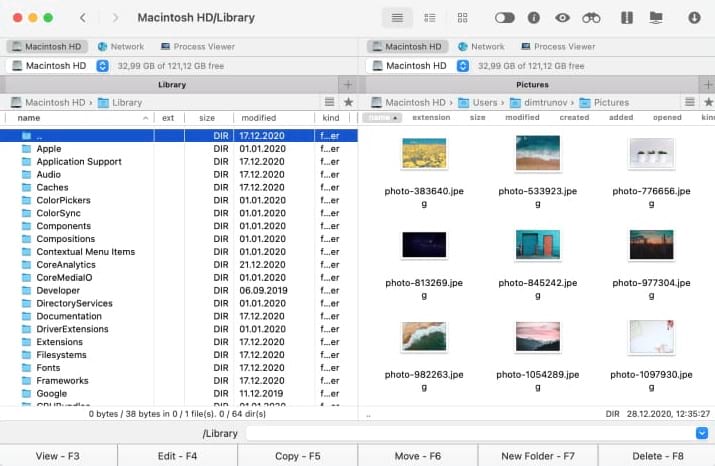 There are three ways to invoke the connection manager, namely:
the respective icon on the toolbar;
Window → Connections Manager in the menu;
Command + F hotkey.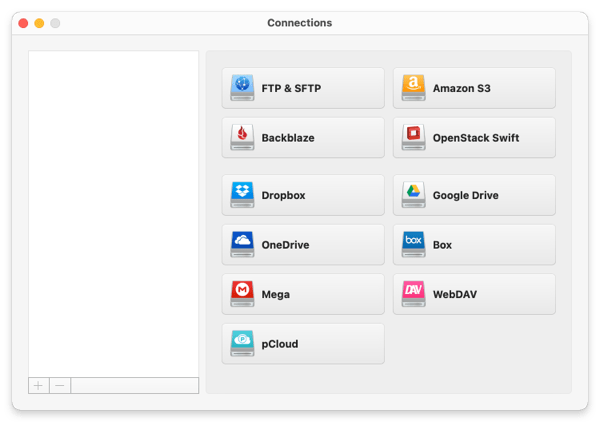 4

Select the FTP icon and proceed with the required settings.
Indicate the connection's name, address, port of the server, and your login info.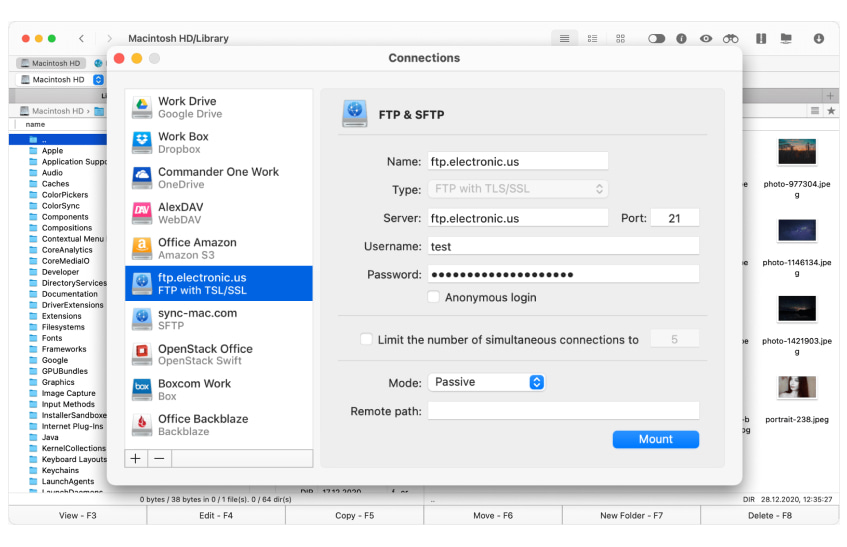 6

Indicate the connection mode - active or passive.
7

8

Click the "Connect" button.
Frequently Asked Questions

Commander One
free
This FTP client for Mac
is fully compatible with macOS 10.13 and later. Requires
51.85MB
of free space, latest version
3.7(3831)
. Released
25 Sep, 2023
.
4.7
rank based on
889
+ users
, Reviews (15)