NEW
Yoo-hoo! JustStream runs natively on Mac computers with Apple silicon: M1 and M2 series!


Extended Free Version
JustStream can be used for free for a total of 20 minutes of uninterrupted mirroring and streaming. This is more than enough to convince yourself that it's the best app to stream and mirror media on your TV.
Stream media
Stream video from Mac to TV in a wide range of formats
You won't have to think about the various formats video files use since JustStream supports the vast majority of them. You'll just have to make sure the video is playable on your Mac and JustStream will take care of everything. So, you won't have to waste time or worry about your TV not supporting a specific media format.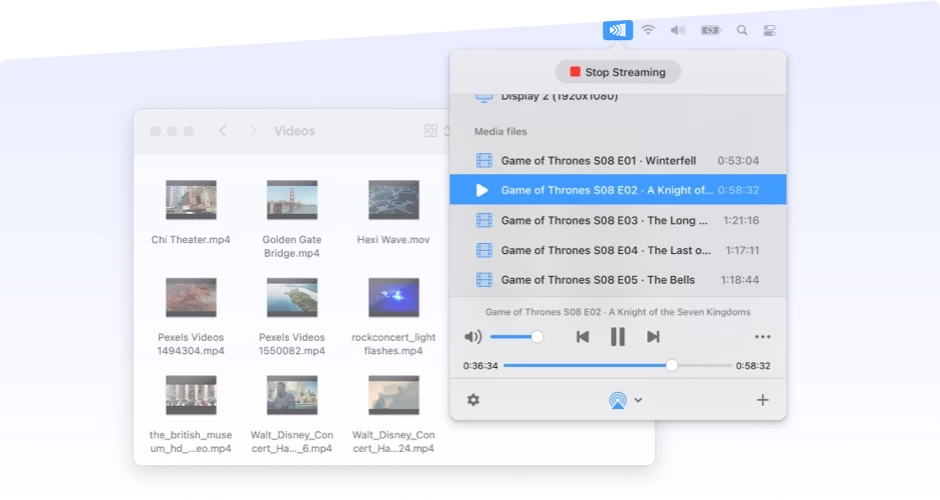 Subtitle support included
Besides allowing you to stream Mac onto Apple TV and many other devices, JustStream can also handle subtitles in various formats. As long as the video has subtitles included, the app will display them and when casting to Chromecast and Chromecast Ultra, it will also give you full control over font, color and size of the subtitles.
Build your own playlists
JustStream does not simply answer the how to connect Mac to Smart TV question. It takes the process one step further and allows users to build playlists and put together multiple video or audio files for continuous play. Thanks to this feature, you will be able to watch the full playlists on your TV.
Embedded and external audio tracks
No matter if the video your are playing through JustStream has internal audio or is using external tracks, the app will pick both up and stream them in complete sync with the video so that you get an optimal viewing experience.
Stream media
Stream probably to any device

Samsung Smart TV

LG TV's

Apple TV
Chromecast

Sony
Mirror screen
Mirror Mac to Chromecast, Apple TV or Smart TV and other DNLA devices
Casting your Macbook display on a big screen is very simple when using JustStream. Mirroring videos, audio, presentations and even other apps is very straightforward. In case you have multiple displays connected, you get the option to choose which one you will be mirroring.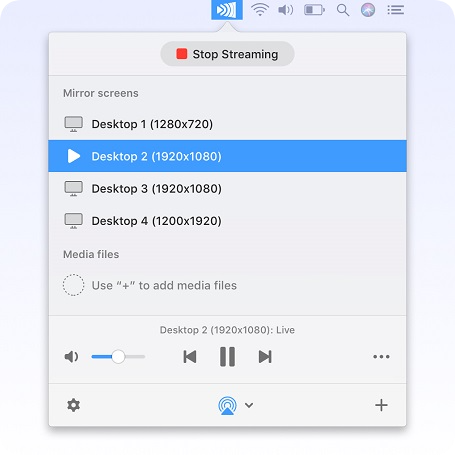 Versatility and flexibility in settings
Before starting the mirroring process, you can go for three quality settings, depending on the device you're mirroring to. Auto, HD or Full HD are the options you can pick from and JustStream also allows you to scale the display so that it perfectly fits the TV resolution.
Extra mirroring options
Besides the plug-and-play functionality, JustStream also offers an extended set of settings for mirroring your screen. You can decide if the mouse cursor is being displayed on the screen you cast to with the ability to also highlight mouse clicks.
Mirror screen
Screen mirroring to all your devices

Samsung Smart TV

LG TV's

Apple TV
Chromecast

Sony
Mirror or stream to Chromecast
Mirroring your Mac screen to Chromecast and Chromecast Ultra is extremely facile. With no additional hardware or cables, you can watch all the videos on a big-screen TV simply by using JustStream.
Streaming local videos to Apple TV or other AirPlay devices
Of course, your local files can easily be streamed from your Mac to an Apple TV or another AirPlay device connected to the same Wi-Fi. The same features apply with creating playlists, support for 4K and Ultra HD videos or advanced subtitle control.
Mirroring and streaming to DLNA-certified devices
Smart TV is one of the most popular DLNA devices out there and JustStream supports a wide range of such devices. Including the popular TV platform Roku, it allows you to stream and mirror the Mac display directly on your Smart TV and watch everything at scale.
Streaming media files to Smart TV using JustStream
Even though the steps to stream media files to your Smart TV are very straightforward, we put together a step-by-step guide as well.
Install the JustStream App from the official page
Run the app after it's installed - it will remain open in the menu bar for when you use it
Within JustStream, you will find a button that allows you to browse for the file you want to play
Choose the file and the device you're streaming to. Choosing the device requires you to click on the arrow close to the AirPlay icon and see all the devices connected to the same WiFi network.
Initiate the stream by clicking "Start streaming" and that's it
I've been looking for such an app for ages. It allows me to perfectly cast videos on the various devices in my house. It gives you full control as skipping forward and rewinding as well as pause and resume.
It's a very user-friendly app as it does not require complicated settings to do a perfect job. Everything is efficient and straightforward. The perfect app to mirror my Mac on the big TV.
I'm loving this mirroring app because it offers everything you may ever need. I use it to stream from Mac to Apple TV at home and to Chromecast at the office. The excellent all-in-one tool that I was looking for!
JustStream works as presented. It's easy to operate and high quality picture on Smart TV Srean. Works much better and easier than any of other apps I used before.

#1 at Video
JustStream
Streaming App for Mac
4.8
rank based on
43
+ users
Languages:
Deutsch, English, Français, 日本の, Español