NEW
Yoo-hoo! JustPlay runs natively on Mac computers with Apple silicon: M1 and M2 series!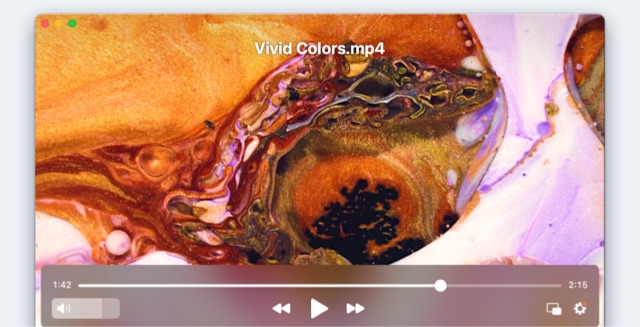 Play virtually any media file
Powerful doesn't always mean huge
JustPlay is a tiny app, with an essential set of features, that will play basically any video or audio file. It supports MP4, AVI, MOV, SWF, DAT, MKV, MP3, FLAC, M4V, FLV, Blu-ray as well as other common formats. As small as the player is, it has all you need to play all those files - you won't need to install any additional codecs or plugins. And with the newly-introduced M1 support, it can run natively both on Apple Silicon and on Intel Macs.

JustPlay offers a smooth and pleasant HD playback for all your 4K and 8K movies thanks to its hardware accelerated decoding feature.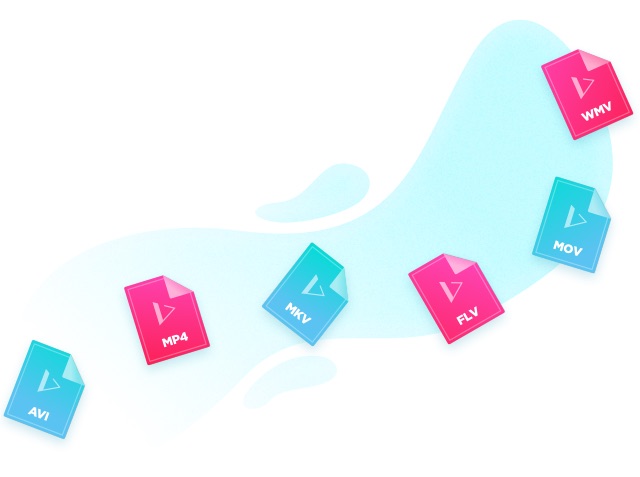 Advanced controls
While watching a movie you can adjust the playback speed, fix subtitles or audio sync issues if any, etc. You can configure the amount of time skipped with arrow keys.

Video tuner
Change brightness, saturation, contrast, gamma, hue, noise reduction and sharpness of a video you are currently watching. There is an option to preserve the aspect ratio when resizing.

Resume playback
JustPlay remembers the selected subtitles and soundtrack, as well as the last position, and can resume playback from it.

Deinterlacing
Deinterlace feature allows cleaning up the videos that have horizontal stripes on fast moving objects and enjoy them in a better quality.

Touch Bar support
If you've got a laptop with the Touch Bar, you can control the player from there, preview video thumbnails, and customize the menu according to your preferences.

Flash files
JustPlay offers you to choose the Flash quality from the highest to the lowest, enable/disable Flash Local Security, and decide which data can be sent over network.
Advanced possibilities for subtitles
Video player for Mac OS with extensive subtitles support
You can let JustPlay automatically load the subtitles (in SRT, SMIL, ASS or other supported format) or load them manually. Forced subtitles are also supported. You can also change the way your subtitles look and tune them up with your video in case for some reason they were not perfectly synced. The subtitles can be moved, in case they obscure the video.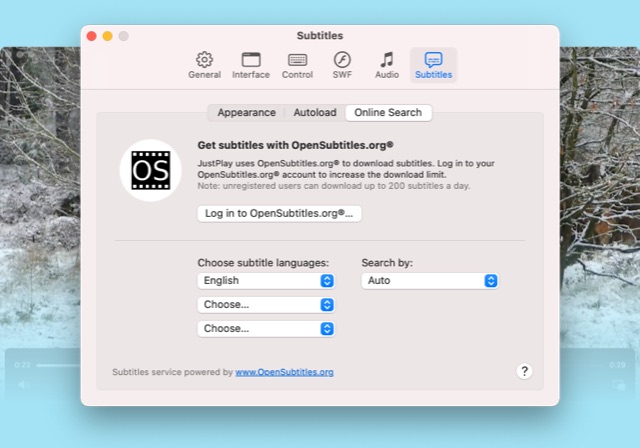 Autoload & Appearance
Automatically load, choose the desired language, there is so much you can do to make your video experience perfect. You can adjust font, size, text and background color for subtitles.

Search for new subtitles
JustPlay features an integrated search through the opensubtitles.org service, so that you can easily find and use subtitles for your videos directly in the app. Any subtitles you find and download can be saved separately as a subtitle file
Best sound with video player for Mac
Get ready for a whole new level of audio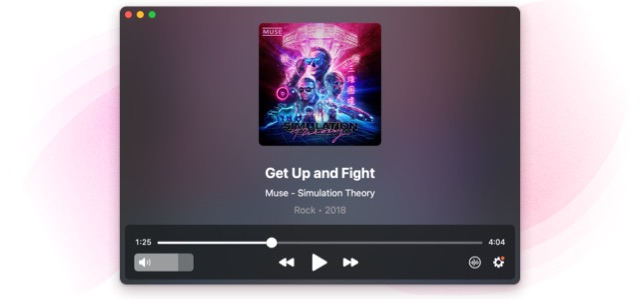 Standalone volume control
Adjusting the volume in JustPlay will never affect your system sound settings.

Audio equalizer
Use the 10-band equalizer to perfect the sound either manually or with any of the carefully chosen presets.
Use external audio tracks
If you'd like to use an external soundtrack for your video, JustPlay allows you to do so in a simple manner.

Preferred audio language
The app will load an audio track with your preferred language depending on the set of tracks video came with.

External audio devices
JustPlay lets you choose anything from a set of headphones to a high-end home theater system as the device for the sound output.

AC-3/DTS through S/PDIF
JustPlay supports passthrough for hardware decoders – AC3 or DTS for surround audio.
Other people on JustPlay:
Couldn't quite make VLC work for what I needed, tried JustPlay and love it so far!
So far I've been able to play any file that I have on my computer, even some really old ones from years ago.
I like the set of options this teeny player offers, especially being able to adjust the playback speed.
I like watching old foreign movies and being able to browse for subtitles that I can use for them makes me really excited!

#1 at Video
JustPlay
Lightweight video player for Mac
4.6
rank based on
45
+ users
Latest version:
v
2.5
, Released
18 Jul, 2023
Languages:
Deutsch, English, Français, Italiano, 日本の, Español, 中文