NEW
Yoo-hoo! JustStream now supports Apple M1, AirPlay 2 and Roku TV!

Stream media
Stream local videos to your TV,
Chromecast or Apple TV. Virtually any format is supported.
Stream a favorite video or movie from Mac to a large TV screen with the help of JustStream. This streaming and mirroring app works great with a large variety of video formats, and in case the format is not supported by your TV set, JustStream will transcode it on the fly without interrupting the playback.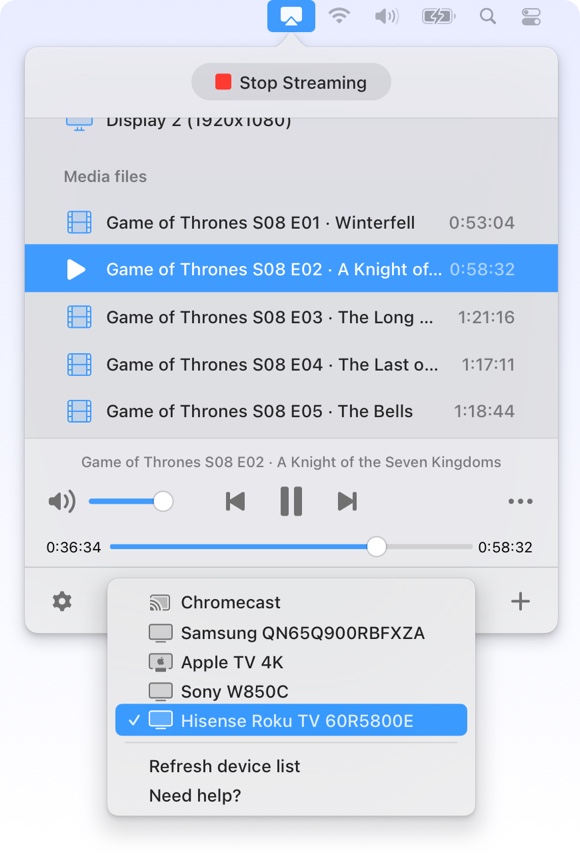 Create playlists for streaming
Get creative and put together your own playlists for non-stop streaming. This proves to be extremely convenient when you have a long list of shorter videos that you want to play on a big screen for a continuous period of time.
Advanced subtitles support
JustStream supports all popular subtitle formats including both embedded and external ones. If you are using Chromecast or Chromecast Ultra - you can change subtitles color, size, and font.
External and embedded audio tracks
It doesn't matter whether your video is using external audio tracks or embedded ones - JustStream picks them right up and streams them perfectly well.
Mirror screen
Mirror display and audio on Smart TV, Chromecast and Apple TV
Mirroring your Mac or MacBook display is so easy with JustStream! You can mirror videos, presentations, audio and even software apps. JustStream supports a wide range of smart TV sets and services including popular Samsung, LG, Roku, Sony, Panasonic. If you have more than one display connected to your computer, you can select which one to mirror.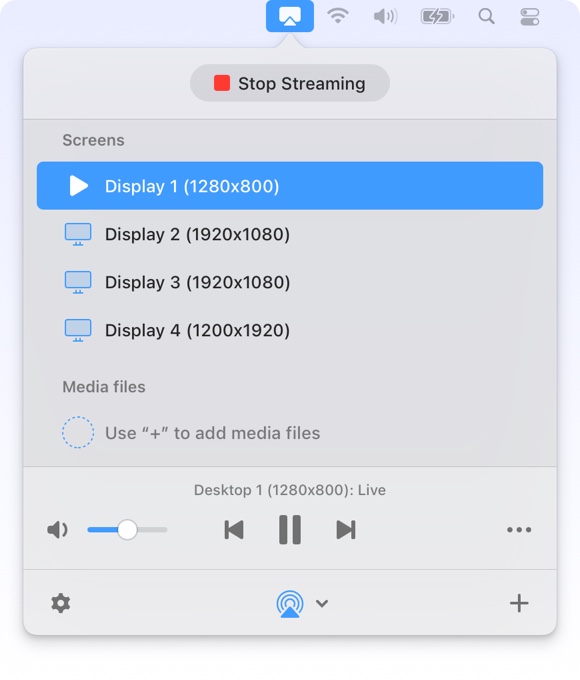 Flexible quality and display settings
For mirroring, you can set either Auto, Full HD (1080p) or HD (720p) quality depending on what type of screen you are mirroring to. You can also scale display to fit the TV screen.
Special mirroring options
There are some special settings you can use for different purposes while mirroring. You can capture the mouse cursor (the mouse cursor will appear in the captured output); also you can capture mouse clicks (the mouse clicks will appear highlighted in the mirrored output).
How to stream media files to Smart TV with JustStream
Casting local media files to Smart TV has never been easier! Just follow the comprehensive steps listed below.
If you haven't done so yet, install JustStream app from the Mac App Store on your Mac.
Open JustStream on Mac. Note: this a menu bar app - click its icon in the menu bar when you need to use it.
In the JustStream app click + in the lower right corner of the window to browse for a file you would like to stream.
You can now choose the device you are going to stream to. To do so, click the arrow next to the AirPlay icon to see all devices on the same WiFi network as you are right now. If you don't see your device on the list, but are sure it's online and in the same network, try refreshing the list.
Click "Start streaming" and you are all set.
Happy to have finally found an app like that. Works great every time!
I use JustStream for my Chromecast and glad to report it's fully compatible and works with no hiccups.
Whenever I need to quickly set up a presentation on my large TV screen, I can do that in a matter of seconds with this app.
The fact that it catches every click and mouse movement has been so helpful!

#1 at Video
JustStream
Streaming App for Mac
4.8
rank based on
43
+ users