Stream media
You can stream any type of videos on your TV, Apple TV or Chromecast.
JustStream gives you the opportunity to stream your preferred videos or movies by streaming your Mac to a high-quality TV screen. This particular software supports a big array of video formats. Usually all types of videos are supported but in case there's one that isn't compatible with your TV, JustStream can convert it while it's playing without interruption.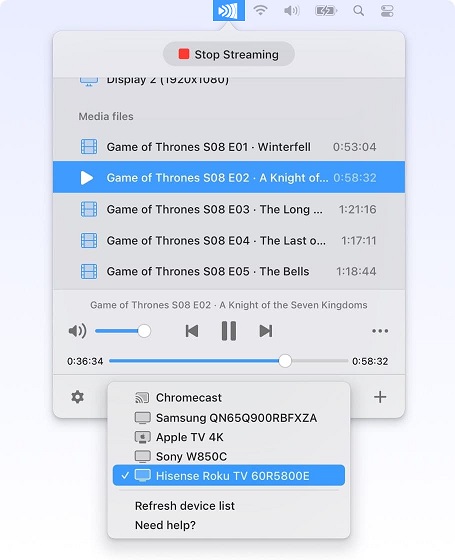 Create playlists for streaming
Did you know that you can create your own playlists and stream them endlessly? If you have a big list of short videos and wish to stream them on a big screen recurrently then you can with JustStream.
State of the art subtitles support
With JustStream you can insert subtitles by embedding or externalizing them. It supports most well-known subtitle formats. In case you are using Chromecast or Chromecast Ultra, you have the option of adjusting your subtitle's size, colour and font.
A simple way of including external and embedded audio tracks
JustStream has the ability to pull external or embedded audio tracks easily and conveniently. And the stream continues to play in premium quality.
Mirror screen
Mirror display and audio on Smart TV, Chromecast and Apple TV
Displaying media from your Mac or Macbook to other devices is so simple with JustStream. Either if it's a presentation, audio, video or even a software app it's just too easy. This particular software is compatible with a big array of smart TVs and services. Brands like Samsung, LG, Sony, Panasonic, Roku are supported. In case you have multiple devices connected to your computer, you can choose on which device you wish to mirror.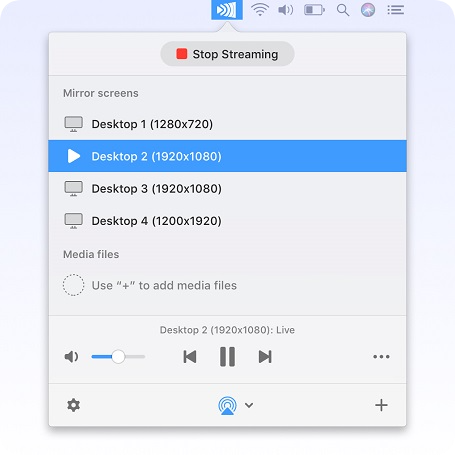 Adjustable quality and display settings
When you want to mirror a type of media you can choose from Auto, HD (720p) or Full HD (1080p) quality. This depends on the device you're connected to. There is an option where you can even extend the display to adjust to the size of the TV screen.
Special mirroring features
Would you like to see something special that JustStream has to offer? This software offers some special features that you can choose while you're mirroring to another device. What you can do is grab mouse clicks (you'll see the clicks highlighted on the screen output) and also you can grab the mouse cursor (you'll observe the cursor in the grabbed screen output).
Why streaming files on a Smart TV is super easy with JustStream
It's very simple and easy to direct local media records to Smart TVs. The following list will guide you step by step on how to achieve this.
Install JustStream app directly from the Mac App Store.
Run JustStream on your Mac. Please bear in mind that this is a menu bar app - whenever you need to run it simply click its icon on the menu.
When you open the JustStream app select + found in the low right corner of the app. This will allow you to browse for your favourite media you would like to stream.
Choose the device you want to stream to. You can do this by clicking on the arrow found next to the AirPlay symbol. This will display all the devices connected on the your WiFi network. In case you cannot see your device, just refresh your list and make sure that the device is connected to your WiFi network.
Select "Start streaming" and enjoy.

#1 at Video
JustStream
Streaming App for Mac
Latest version:
v
1.0.1
, Released
18 May, 2020
Languages:
Deutsch, English, Français, 日本の, Español