How to Use Your Media Player on Mac
A Superior User Experience
Make and Save Playlists
Create a temporary playlist on the go, shuffle or loop it, or save it in the M3U format for later use. An Elmedia playlist can contain both music and videos.
Change the Way You Play
Modify playback speed. Jump between chapters or bookmarks, and change the jump length of different hotkeys. Loop between selected points on the timeline.
Compete Fullscreen Control
Elmedia uses native macOS Fullscreen Mode, making the most of your screen resolution. If multiple displays are connected, you can change which one is used.
Precise Modifications
Does the movie seem a bit too bright? Maybe you'd like to add a reddish hue? The most minute needs will be satisfied.
Fragment Loop
It's a bit niche, but looping a selected section on the timeline can come in handy. An excellent function, if you find a use for it.
Series of Screenshots
Skip frame-by-frame and use navigation hotkeys to find the exact places for your snapshots. Use the Screenshot Series feature to create a sequence of images.
Play in Sync
Do you have a video ruined by audio or subtitle desynchronization? Fix it in Elmedia by changing the delay for the tracks. It can even be done while playing.
Fix Interlaced Videos
Elmedia Video Player provides a Deinterlacing filter, useful for old DVDs and camera recordings. Get smooth video without bands.
Media Player for Mac
Media Player for Mac with Perfect Sound
Improving the way your media sounds is easy in Elmedia Video Player. Use the large amount of audio features it provides to increase your enjoyment. Crisp sound, lossless support, and so many options to discover.
Use High-fidelity Formats
Since Elmedia can open almost any format, you can also load FLAC files, or other lossless media. And you can be sure that it will be played without compression.
Additional Audio
Swap between audio tracks on your videos, or load up a different file - try watching your favorite movies with different voiceovers or in other languages.
Hardware Passthrough
Connect Surround Sound systems to your Mac - Elmedia is fully compatible with AC3/DTS, and will allow you to quickly set up and play multi-directional audio.
Ten-band Equalizer
Do you want to change the way your music sounds? More bass, maybe more percussion? Use the 10-band equalizer.
Configure Your Subtitles
Better Subtitles with Elmedia
Subtitles can come in many forms and formats. Sometimes, you might want to change some things, or open a different subtitle file. And nothing is easier in Elmedia. All it takes is several clicks, and you'll have changed all the aspects of subtitling that you needed.
Autoload

Manually loading subtitles is unnecessary - use the option to automaticall search for them in the same directory based on file names.

Change their Looks

Alter your subtitles' color, font, size, and location. Place them where they are the most visible and convenient.

Web search

Find subtitles automatically on opensubtitles.com, add them to the track list, or even save them as separate files. Elmedia does it quicker than your browser.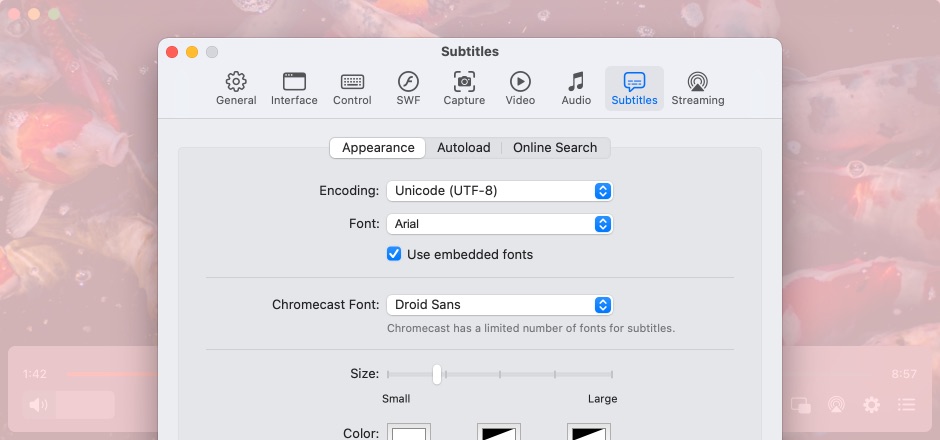 Network-Friendly Player
Mac Media Player with One-Click Streaming
Cast your videos over WiFi. Whether it's a dongle, a Smart TV, or a speaker, Elmedia Video Player is all you need to connect your devices together. Stream music and movies without having to change a large amount of settings - just use the AirPlay button, and you're golden.
AirPlay 2
Apple TVs, tablets and iPhones are perfectly compatible with Elmedia Video Player.
Chromecast
Give any TV network capabilities, and connect to it from your Mac desktop using Elmedia.
DLNA
Most non-Apple network media hardware is compatible with this protocol - for example, Smart TVs.
What other users are saying about Elmedia
If you are searching for an advanced movie Player for Mac, then Elmedia Video Player is here for you. Elmedia Video Player is known as the best media player amongst the new generation of Mac users.
Elmedia Video Player for Mac offers a wide range of features to meet all your multimedia needs. You can stream directly to Smart TV or Apple TV.
Elmedia Video Player has a wide variety of other features and capabilities, but having the ability to play just about every possible video format, tweaking settings as needed for sync, audio and video problems.
It can play any file format including the widely-used ones like AVI, MP4, FLV, SWF, WMV, MKV, MP3, M4V, etc without the need of installing any other plugin or codec.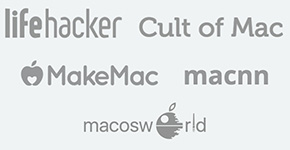 Languages:
中文, Český, Deutsch, English, Français, Italiano, 日本の, 한국어, Polski, Русский, Español, Svenska, Nederlands